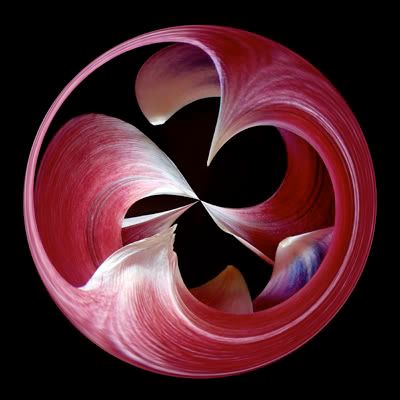 Tulip

sphere. The black background on the flower image is moved

inside

the "sphere" during the process, which gives it a three-dimensional look, as though you could walk through the object.


Spheres Procedure Using Photoshop


Drag or open an image into

Photoshop.



Using

Rectangle Marquee Tool

, start and drag out a square shape inside the image set to

Fixed Aspect Ratio 1:1

-- such as, Width 1, Height 1, no feathering.

In the

Filter Menu

, drag down to

Distort

, then to

Polar Coordinates

.

On Polar Coordinates Screen, set it to

Polar To Rectangular

, and "

okay

".

Under

Edit

, go down to

Transform

, and

Rotate 180 degrees

.

Next, go back to

Filter, Distort, and the Polar Coordinates

again, and this time, set

Rectangular to Polar

. This gives you the Spherical image.

Go up to

Image

, and set

Crop

.



Deselect

Image.

Do your "

Save As

" now with a new title, so you don't accidentally ruin your original Image (or that can be done anytime prior to this, to be safe).

Some people stop at this point. I keep going...




Finishing Touches



Next, I go up to the

Marquee tool

and change it to the

Elliptical

tool.

I set the Elliptical tool just as I did the square -- so that it makes a perfect circle: no feathering,

Fixed Aspect Ratio 1:1

.

Starting near the upper left corner of your square box -- but a bit away from the corner, 1/16th to 1/8 inch from corner --

drag out a circle

that fits to the size of the sphere, or just inside it.

Next, go up to

Select

and set

Inverse

-- this way you are going to be working in the space outside of the new Sphere.

Go up to select the

Paint Bucket

, and hitting the paint box with the eye dropper, color the paint pure black, which is

color #000000

-- then say "Okay".

Drop the black paint into the outside section of the box, outside the sphere.

If it does not cover everything solid black (depends on the picture), go to a paint brush -- I use the airbrush -- with an appropriate sized brush, and just manually paint in all the parts you want black. The active border will safely keep any unwanted black from going onto your Sphere.

When that is done, go back up to

Select

, and set

Inverse

again -- this time you are ready to work inside your Sphere, doing any Photoshopping work that needs to be done to the image -- I usually do levels, color balance, select color, shadow-highlight, etc..

The more black shapes you have inside the sphere, the more 3-D it will appear, as though you are looking through the object to the black background. You can accentuate those black areas with the burning tool, or sometimes do the "magic wand" into places that you then drop black paint into.

Sharpen when you're done.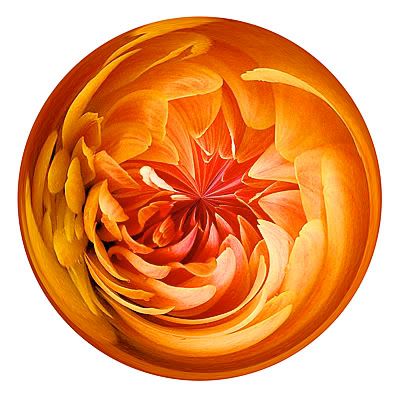 Dahlia

sphere on white.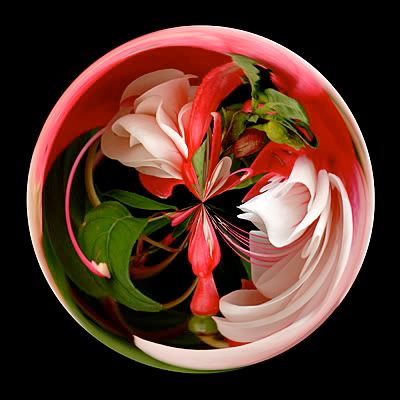 Fuchsia

sphere.





Montage of "glassy" spheres in the blue / purple range.